Invitation
Hello Friend,
You just completed Dream Big's first Masterclass, good for you! It can be hard to make a choice to take a risk and do something new, exciting and maybe even scary.
I can bet you have a new insight into your inner critic and have found some useful tools to change that critic into an affirming mindset.
Let me tell you that there is so much more within my signature course, Believe & Achieve: The Mindset Shift Method to Achieve Your Creative Goal.
This course delves deeper into developing the foundation for creating an ongoing, affirming mindset in order to achieve consistent, productive goal minded outcomes.
BELIEVE
The first half of the course is the foundation and theory. This section will define your value system, challenge negative mindset, build an affirming mindset, offer ways to deal with discouragement and nurture your creative process. You will gain the confidence in your ability to achieve your goal. You will begin to shift your negative, critical thoughts into affirming ones. Your daily choices to challenge your fears will become healthy habits. Your affirming mindset will allow you to view yourself with grace and gentleness.
ACHIEVE
The second half of the course will be putting theory into practice; developing and practicing tools (task lists, mood boards, brainstorming, creating your community) that will sustain your creative endeavor beyond the course. You will take the confidence you are building and what you desire and translate these new beliefs and habits into tangible actionable steps.
Each week, you will complete assignments to map out your personal plan of action. You will remain consistent with your plan while continuing to build your confidence to succeed.
This course will be delivered over a 6-week time period. There are 6 MODULES and 2 LESSONS within each MODULE. Each MODULE will be delivered on a Monday and we will have a FACEBOOK LIVE on the following Friday.
Registration is NOW OPEN to Believe & Achieve: The Mindset Shift Method to Achieve Your Creative Goal
I will see you on the inside!
Chat soon,
Darlene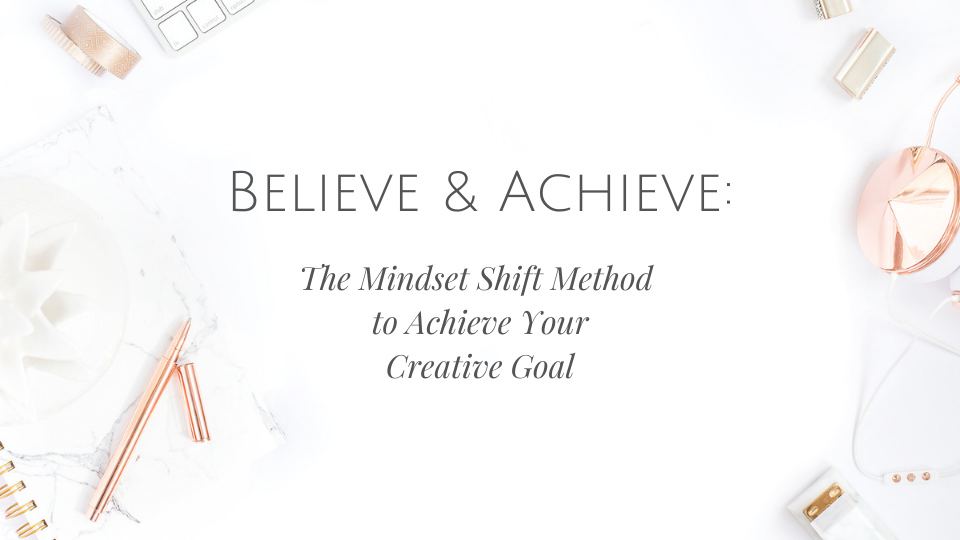 Complete and Continue